Main content starts here, tab to start navigating
RESTAURANT WEEK 2021
Lunch $15 - Available 11am to 3pm, Fri - Sun
⇹
Starter
Chicken gnocchi sardi soup, mushrooms, cream & truffle
-OR-
Smoked tomato bisque, basil & mini grilled cheese croutons
-OR-
Market Salad w/ white balsamic basil vinaigrette
⇹
Main
Steakhouse French dip: roast beef, Madison sourdough hoagie, Farmer John's smoked gouda, horseradish cream & a side of jus.
-OR-
Any 10" one topping pie
-OR-
Meatball bomber, red sauce, smoked provolone on a Madison sourdough hoagie
⇹
Dessert
Red velvet espresso cake w/ cream cheese frosting
-OR-
Chocolate bar w/ peanut caramel, peanut nougat, pretzel, white & dark chocolate
----------------------------------------------------------------
Dinner $25-$35 - Available 3pm to 9pm, Tues - Sun
*All dinners include the same lunch starters & dessert options
⇹
Main
Any 10" specialty pie - $25
-OR-
Fish fry: Gochujang tempura fried cod, chilled soba noodle slaw w/ wakame & sweet chili dressing & twice baked togarashi potatoes - $30
-OR-
Prime sirloin, roasted garlic & SarVecchio crust w/ sour cream & black pepper spaetzle, herbed butter, shallot confit, king trumpet mushrooms, smoked scallion creme fraiche, dill & winter truffle - $35
*Available Feb 21 - Feb 28th
**Mini bottles of wine available for take-out**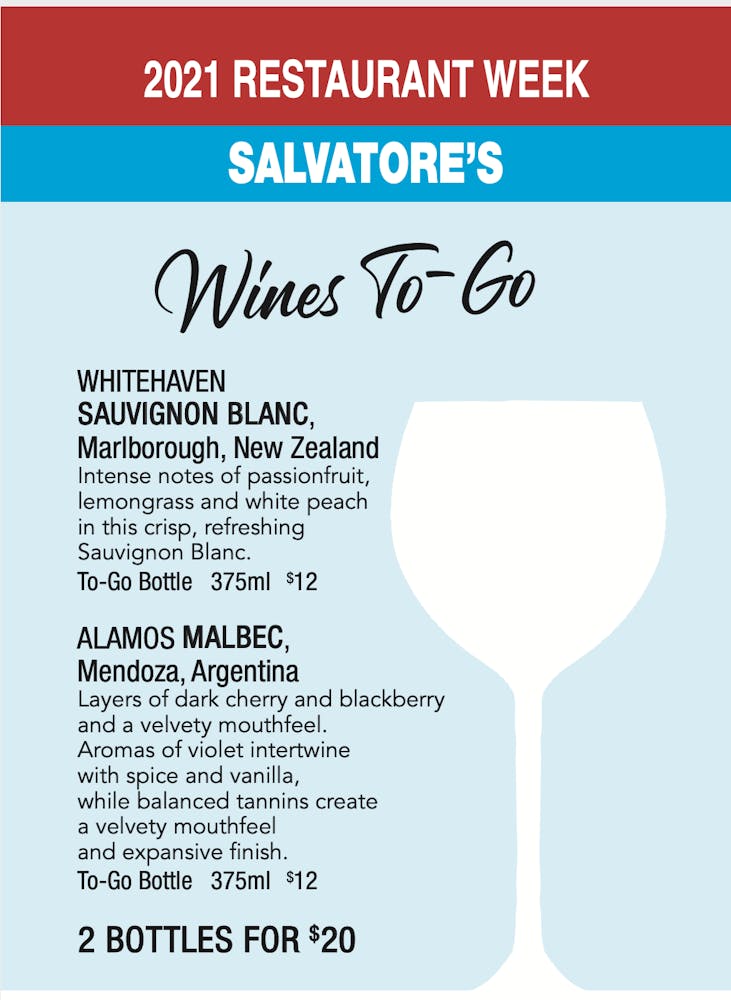 Chef Jed Spink introduces to you our Winter 2021 Dinner menu.
Our E Johnson location is now closed for the winter for renovations.
Click here to order online or give us a call at (608) 305 8885. Curbside pick up and no contact delivery are available.
If you order pickup and decide to opt out of curbside drop off, please wait to receive a text message that says "your food is ready" and only send 1 person into the store. We thank you in advanced!
Winter Menu
Chef Jed Spink introduces to you our Winter Dinner menu. To order pickup online go to the home page and select "Order Online"
Market Salad

w/ Mixed greens, confit shallot vinaigrette, cucumbers, tomatoes, carrot, red bell pepper, radishes & SarVecchio (can be V) $11

$11

gluten free

Chicken Souvlaki Caesar

w/ Greek yoghurt caesar dressing, chickpea croutons, tomato, red onion & SarVecchio

$13

gluten free

Bacon Cheese Bread

Jones Farm bacon, Farmer John's Colby Caliente, smoked gouda, Stalzy's baguette, and dynamite sauce (can be VG)

$8

Fries w/ Tomato Remoulade

Seasoned w/ smoked sea salt & szechuan Pepper (VG)

$5

vegetarian

Smoked Chicken Wings

Choose from Korean BBQ or Alabama White BBQ sauce with a side of kimchi

$13

dairy free, gluten free

Black Pepper Veggie Egg Rolls

w/ Cabbage, carrot, yellow onion, bean thread, green onions & garlic. Served w/ sweet & spicy chili sauce

$4.50

dairy free, vegetarian

Steakhouse French Dip

w/ Roast beef, Madison sourdough hoagie, Farmer John's smoked Gouda, horseradish cream & a side of jus. Add a side of Fries for $3.

$11

dairy free

Crispy Tofu

Brussels sprouts, shiitake mushrooms, Fresno chili, cilantro, scallions & maple soy glaze

$13

dairy free, gluten free, vegan

Spicy Szechuan Meatballs

Impossible beef with bok choy & shiitake mushrooms

$15

dairy free, vegan

Chicken Karaage

Fried chicken served w/ sesame rice, broccoli, spicy mayo, sweet & spicy chili sauce, lemon wedge

$15

dairy free, gluten free

5 - Spice Brisket Rigatoni

With Nori brown butter, SarVecchio & smoked scallion creme fraiche

$17
Dessert
Vegan Bonbon

Cranberry sake jam, cacao butter mousse

$8

vegan

Orange Cardamom Cake

w/ Whipped mascarpone, lemon earl grey curd & candied lavender $9

$9

vegetarian
Salvatore's Tomato Pies
The Tomato Pie: The Classic. Not a pizza, but the built-in reverse: house-made crust, olive oil, mozzarella/romano, a swirl of tomato sauce. Finished with fresh basil. This style of pizza was created in Trenton, NJ in 1912.
Elmer Street Special

Mozzarella, Smoked Tomato Sauce, Roth Grand Queso, Chili Oil, Finocchiona (Fennel Spiced Salami), Castelvetrano Olives, Chili Flakes

$15

Farmer John

Smoked gouda, garlic, caramelized onion, crimini mushroom, tomato & bacon

$15

Fat Uncle Tony

Pepperoni, sausage, Jones Farm bacon, red sauce, basil

$15

Fig and Bacon

Mission figs, gorgonzola cheese, balsamic red wine reduction, Jones Farm bacon

$15

Forza

Tempesta Pepperoni, calabrese chili peppers, Farmer John's smoked Gouda, roasted garlic, ricotta, roasted tomatoes

$15

Lambeaughini

Our classic tomato pie w/ TRIPLE the pepperoni

$13

Thai Pie

Mozzarella, peanut satay chicken, hoisin, red onions, scallions, carrot, cilantro, jalapeños & red pepper

$15

Sage Against the Machine

Butternut squash, mozzarella, sage pesto, roasted red pepper, fried chickpeas

$15

vegetarian

Vegan Meatballer

House-made vegan Italian "Meatballs," Daiya mozzarella, red sauce, muffuletta mix, yellow onion, green pepper, & basil

$15

vegan

Woodsman

Sauteed cremini mushrooms, roasted shiitake & oyster mushrooms, leek, Pleasant Ridge Reserve truffle oil, cracked black pepper, chive

$15

vegetarian

Tomato Pie

Build your own Tomato Pie starting at $10. Gluten Free Crust 10", $15 - 3 free toppings Basic Toppings $1 Premium Toppings* $2 Super Premium Toppings** $3 Cheese Smoked Gouda, Colby Caliente, Gorgonzola, Ricotta*, Goat Cheese*, Vegan Mozzarella** Protein Berkshire Italian Sausage* ,Pepperoni, Organic Eggs (3)*, Nami Moon Chicken*, Jones Farm Bacon*, Anchovies*, Tempesta (Uncured) Pepperoni**, Vegan Italian Sausage** Vegetables Fresh Basil, Spinach, Arugula*, Crimini Mushrooms*, Banana Peppers, Calabrian Chili Peppers, Jalapeños, Green Pepper, Roasted Tomatoes, Roasted Garlic, Kalamata Olives*, Green Olives, Black Olives, Green Onions, Yellow Onions, Mission Figs*

Game Day Specials!

Check out our "Order Online" menu to see our game day specials! You can also see our specials on Facebook and EatStreet!
Cocktails
For dine-in only - not for takeout
Betty White Manhattan

Driftless Glen Vodka, Dolin Blanc Vermouth, Luxardo Liqueur, Orange Bitters $9

$9

Sheldon's Cousin Vinny

Noteworthy Bourbon, Clockwork Orange, Cinnamon infused Cranberry reduction, Maple Syrup, Lemon

$9

Bitter Orange Buffalo

Buffalo Trace Bourbon, Suze (bitter liquor), Tattersall Bitter Orange, Blood Orange and Lemon Juice, Simple Syrup finished with Herbsaint spritz

$11

Tropical Dreamboat

Cutwater Dark Rum, John D Taylor's Falernum, Pineapple, Blood Orange and Lime Juices, Cinnamon Simple Syrup with an Empress Gin Float

$10

Sal's '75

Seagrams gin, muddled blackberries, lemon, simple, topped w/ Cava

$7

Wisco Old Fashioned

Wollersheim Brandy with muddled sugar, bitters, orange & Door County cherries, topped with Sprite.

$7
Beer on Tap
Young Blood Beer Co. Sweep the Leg Johnny

5.3%

$8

New Glarus, Thumbprint Series Can-bic

6%

$8

New Holland Dragon's Milk BourbonBarrel Aged Stout

11%

$8

Goose Island Bourbon County Stout

14.7%

$9

Goose Island Christmas IPA

7.5%

$6

Goose Island Matilda

7%

$8
Beer - Bottles/Cans
Pabst Blue Ribbon "PBR" Tall Boy American Lager

4.8%

$4

New Glarus Spotted Cow Farmhouse Ale

4.8%

$5

Hope Haus Hashtag Hazy NEIPA - Tall Boy

6%

$8

Lucette Dain Bramage Imperial Stout w/ Coffee

8%

$7

War Pigs Salmon Pants Hoppy Lager - Tall Boy

5.3%

$7

Third Space Unite the Clans Scottish Ale

5.8%

$6

C Squared Organic Ginger Apple Cider

5.5%

$7

Untitled Art Florida Weiss N/A Fruited Malt Beverage

>.05%

$7
Wine on Tap
Glass (6oz) $7 | Lush Pour (8oz) $9 | ½ Carafe $19 | Carafe $27
Exem Bordeaux

Merlot/Cab blend, 2016. Bordeaux, France. Small red berries, black currants & ripe fruit, dry finish

Wollersheim Prairie Fume

2018. Prairie du Sac, WI A refreshing white wine with citrus and mango highlights and a hint of sweetness. Nationally acclaimed triple-gold medal winner!
Red Wine
Available by the glass, lush pour and bottle
Katherine Goldschmidt Stonemason Hill

Cabernet Sauvignon, 2018. Alexander Valley, Sonoma, CA. Fruit driven w/ ripe raspberries, blackberries & plum. Flavors of ripe cherries, blueberries & a hint of chocolate w/ silky smooth, round tannins.

Glass $12

Lush $14

Bottle $44

Whole Cluster

Pinot Noir, 2019. Willamette Valley, Oregon. Fermented from uncrushed Pinot Noir grape clusters, resulting in a velvet mouth feel & delicious, fresh, bright fruit flavors. Pairs well w/ bbq, pizza, spicy Asian cuisine.

Glass $14

Lush $16

Bottle $49

Bura-Mrgudić

Plavac Mali "Fresh," 2019. Pelješac Peninsula, Dalmatia, Croatia. Light bodied, *Organic*; bright, snappy red fruit flavors combined w/ chalky minerals and herbal notes. Wild raspberries & fresh cranberries.

Glass $10

Lush $12

Bottle $35

Ocho y Medio

Malbec, 2019. Castillo la Mancha, Spain. Bright, floral, slightly spiced & soft tannins

Glass $8

Lush $10

Bottle $30

Cusumano

Nero d'Avola, 2018. Sicily, Italy Fresh aromas of red and black berries. Fruit-forward with firm tannins and plummy spice flavors (G $8, L $10, B $30)

Glass $8

Lush $10

Bottle $30

Mud Pie **Staff Favorite**

Petite Sirah, 2016. Mendocino County, CA. Deep blueberries, blackberries with a finish of raspberries. Black pepper aromas with hints of cedar & clove

Glass $9

Lush $11

Bottle $32

G.D. Vajra Langhe 'Claré J.C.' Nebbiolo

2019. Piedmont, Italy. Bright ruby red w/ cherry stone, candied pear & pomegranate nectar. Sweet spices paired w/ minerality & a zesty, tart acidity. (G $14, L $16, B $42)

Glass $14

Lush $16

Bottle $49

Broletto Lambrusco

Reggiano Lambruscco DO. Reggio Emilia, Italy. Intense red ruby color w/ black-purple notes. Intense scent of violet and berry fruits. Characteristic & fresh taste but also full bodied & harmonic *Organic* *Sparkling*

Glass $8

Lush $10

Bottle $30
White Wine
Available by the glass, lush pour & bottle
Et Cetera

Chardonnay, 2018. Multi regioned, CA. Big & buttery; slightly oaked w/ great acidity. Chardonnay grapes from Lodi, North Coast & Central Coast. Juicy pear, green apple & vanilla

Glass $9

Lush $11

Bottle $32

Pullus

Pinot Grigio, 2019. Ptuj, Slovenia. The most uniquely, beautiful copper color from extended skin contact (baby orange wine). Notes of fresh lime & pear complemented by minerality. This is a must try wine!

Glass $8

Lush $10

Bottle $30

Vinhas Altas **Perfect for A Hot Summer Day**

Vinho Verde DOC, 2017. Minho, Portugal. Slightly effervescent w/ fresh, fruity aromas, flavors of citrus, white pulp fruits & stone fruits. Crisp, bright w/ a slight minerality

Glass $6

Lush $8

Bottle $25

Brassfield Reserve

White Blend, 2019. High Valley, California, Aromatic herbs, citrus and wild flowers, slightly creamy, slightly sweet

Glass $6

Lush $8

Bottle $25
Rosés
Available by the glass, lush pour & bottle
Kruger-Rumpf Spätburgunder Rosé

Trocken, Pinot Noir, 2019. Nahe, Germany. Ripe cherry, plum, strawberry, raspberry w/ a slight earthiness

Glass $10

Lush $12

Bottle $34
Bubbles
Marie-Pierre Manciat Brut

Chardonnay, NV. Crémant De Bourgogne, France Earthy & savory flavors of yeast & toasted baguette, a creamy body w/ bright pear and citrus notes

Glass $16

Lush $19

Bottle $50

Segura Viudas Brut Reserva

Cava, NV. Penedes, Spain White & tropical fruits, good acidity w/ notes of lime and pineapple, dry long finish

Glass $6

Lush $8

Bottle $25

Offshoot Blaufränkisch Rosé Pet Nat

Blaufränkisch, 2019. Lower Styria (Štajerska), Slovenia. Vibrant rose color. Strawberries and cherry mix with a slight hint of reduction on the nose. Fresh, easy drinking, with smooth but lively acidity. Definitely smashable. Bottle Only.

Bottle $45

Campo Viejo Brut Rosé

Cava, NV. Penedes, Spain Bright red fruit flavors & ripe red berries. Rewarding & refreshing

Glass $6

Lush $8

Bottle $20
Happy Hour
Tuesday - Friday 4pm - 6pm | Saturday - Sunday 3pm - 5pm
Select Wines $2 off

Select Tap Beers $2 Off

BOGO Rail Mixers